Children's home
"The years of civil war in Nepal have drastically aggravated the living conditions for many children: their parents have died, disappeared, fled or live in complete poverty. The children are - if they are lucky - taken in by overwhelmed relatives or end up on the street, at great risk of being abused in various ways.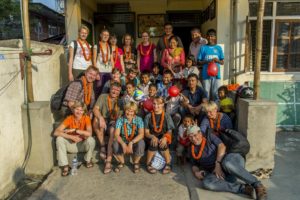 The child trafficking is flourishing. Human warmth, protection, adequate and healthy nutrition as well as schooling are mostly unattainable dreams [...] "
These few lines, taken from the current "Lost Children" flyer, are deeply shocking. But unfortunately they are true: children who are "left over" are sold to smugglers out of social need. Girls usually end up in prostitution, boys in children's gangs. Even organ trafficking is an issue. In the flyer, however, the reader also learns about the remarkable story of Hira Maharjan, a Nepalese businessman. His wife had asked him to do something for his karma, whereupon he gave 16 children between the ages of four and twelve a new home in his own house in the spring of 2008. Since the couple could not finance this spontaneous relief effort in the long run, they asked Brigitta Kröger, Willi's wife (our architect), for help. This is where our student company comes into play.
2008 we visited them for the first time in Kathmandu and asked for help with building the school extension in Gati. Brigitta told us about Hira and his story. Together with Hira, Brigitta founded the "Spark Children Home" in Patan, a children's home for the lost children of Nepal. This time Brigitta needed our help and we really wanted to visit the children's home. We were impressed by the commitment of the Maharjan couple and their friends. We were enthusiastic about what has been achieved so far and the visions for the future. The former street children have found a loving home here, where they are not only provided with food, but can also attend school. Hira showed us the open kitchen and the unfinished attic. An alternative solution was sought for the kitchen and the attic was to be converted into a large common room. Furthermore, the drinking water supply was no longer sufficient. We agreed that Hira would send us a plan and the cost calculation.
Back in Freiberg we found all the necessary information and decided we want to help! We will transfer you for the necessary measures in November 2009 around 3000.00 euros.
In October 2010 the students were able to convince themselves of the results. Hira had kept her word. The kitchen was "winter-proof", there was a new water pipe and a large common room on the top floor of the house (previously the roof). We asked many questions and other problems became apparent. Hira and the members of the newly founded association for the children's home face the problem month after month of not being able to pay the bills with the little money available. In particular, the food and running costs of the house are the biggest expenses at the end of the month. We wanted to take over part of the costs from 2011 - our condition: transparent bookkeeping.
2011 Hira could not really get used to the requirements of a "German bookkeeping". Then everything went very quickly by Nepalese standards. Mangal, our first project manager, wanted to spend more time with his family in Kathmandu and quit his job with us. We knew his skills and suggested that Mangal could take care of the finances of the children's home. With the already available audited annual financial statements according to nep. Calendar from 07/17/2010 to 07/16/2011 and the addition until the end of December 2011, the changeover to our calendar year has taken place. Mangal sent us the summarized bookkeeping in 2011 and we financed his activity with 520.00 euros.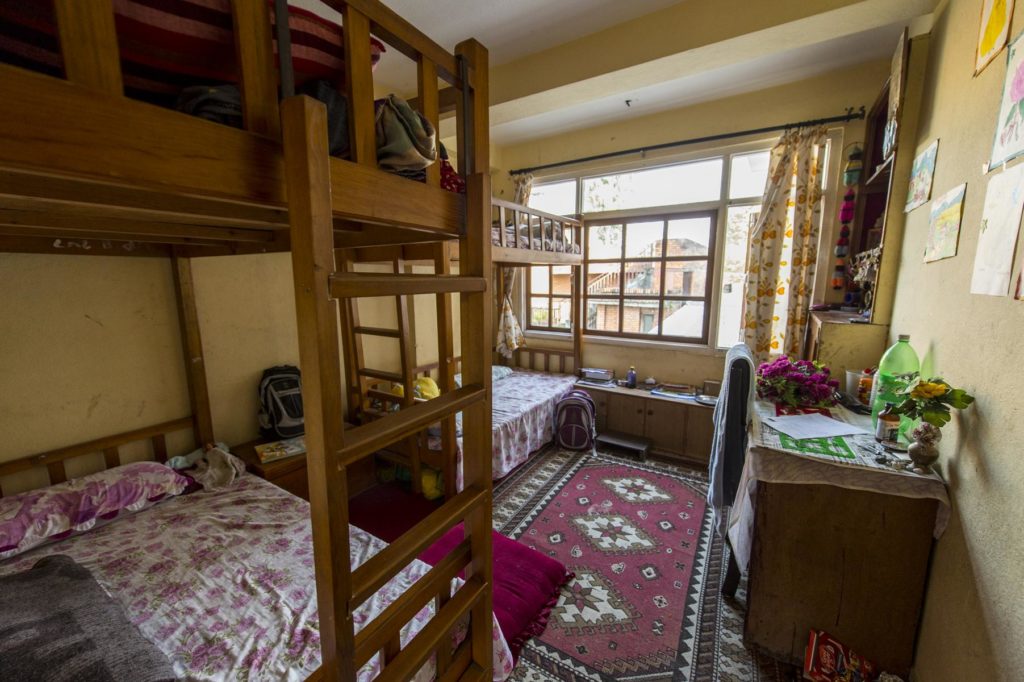 2012 Mangal is employed by the association as the home manager. The children are developing well and are among the best in school. There is a cook and Suraj, a student, lives in the house. Mangal coordinates the work of the volunteers. English is also spoken in the children's home in the afternoon. The donation volume for the children's home amounted to approx. 14,000.00 euros. Hira alone provided 2,000.00 euros. Willi and Brigitta's Kailash e.V. contributed 4,000 euros of the costs and our share of the total financing was around 37 percent.
---
Interview with Hira, conducted by Brigitta Kröger ...
Would you like to tell something about your childhood, your background and how you grew up?

I was very little when I lost my father, I can't even remember his face. My father died because a dog bit him. There was no medication at the time. We were a farming family. The farmers worked in the fields of others, had to give up seventy percent of what they harvested. My mother worked a narrow field. That wasn't enough for us to survive. We were seven children, two of whom died because my mother had to feed them on her own. She received no help with this, on the contrary, my brothers drank a lot and treated them badly. I was the second smallest of them all. My mother worked hard in the fields, she also worked in a brick factory in order to earn a little extra money. In spite of everything, my mother sent me to school even though there was not enough to eat as a result. I was often hungry and she cried. My older brother even studied engineering in Calcutta, he looked after the family, but he too died early. Before that he had opened a school to help children, but then he died. Once my mother got very sick, we had to borrow money to take her to the doctor. I love my mother very much, she did everything for me. She was a good role model…. I really know what it's like to lose your parents.(He's crying a lot, we're taking a break.)
Then we come to the beginning of the children's home, where did you find the children?

I had a friend in Patan, and I mostly only talked to him about business matters. He wasn't really a friend, just a businessman I knew. One day he told me that he had taken in children, 19 at the time he was staying in a rented house. The rent was so expensive that he had no more money for the children and their care. One day he spoke to me and asked for help. I myself do not know how he got to these children. I think that he is not a good man and that there was no good intention behind it. One hundred percent the only idea he had was making a profit, and the business didn't seem to be making enough profit. He didn't know his way around and just wanted to make money. In Kathmandu a lot goes like this, in many homes the children are not looked after.
Said acquaintance had promised the relatives that their children would be allowed to go to school and get a higher education, but in truth he only locked them in. He told me he couldn't pay the rent on the house. I offered him help and first paid the rent, then I decided to take the children into my own house. I asked my wife if she'd agree. I called her, she was very happy and immediately agreed. This man just disappeared from the scene and didn't really care what happened to them. The children knew what he was doing to them. They were very scared, they were all scared of him. He wanted to become a member of the club, but we resisted, it would not have ended well. The children were guaranteed to be beaten by him and his own children…. Anita, called Didi, who is now our cook, was also one of the group.
How did your environment react?
My fellow human beings reacted very negatively, they thought I wanted to make quick money. I also had problems with people from the press, then I showed them the home and they apologized.
Everyone thought that if I wasn't angry, then at least I was crazy. I realized how difficult the situation was with the many children and the little experience I had. I was very inspired by a tailor's wife in the neighborhood, she had taken in and looked after five children - why shouldn't I be able to do that too? But that was completely different from what you had imagined. The state also had difficulties with me and my children's home because I had not yet founded an official association. It is understandable, given this child trafficking, which is unfortunately widespread in Nepal. They then wanted to give me more children, but were not ready to help me in any way. I refused to take in any more children. Then I got into conversation with Naresh, he told me about you and said that you could help.
So many people thought that I had bad plans for the children, they didn't want to believe that I really wanted to give them an education. In the meantime I have been able to convince them of the opposite, the children are fine with us.
The children's home is now exactly on the property where my mother's field used to be. Isn't that nice? I bought it a few years ago and I'm sure my mother would be very happy that a place for children has now been created there.