rivers and lakes
Berlin is right in the middle of the network of European waterways. You can even take city tours of Berlin on the water. The most important Berlin river is the Spree. Besides that, they are Havel and the Dahme still known.

The Spree has a total length of 400 kilometers (km) and flows through the federal states of Saxony, Brandenburg and Berlin. In total, it flows about 44 km directly through Berlin and then flows over the Havel and Elbe into the North Sea. The Spree has little gradient and therefore flows relatively slowly; It's especially leisurely through Berlin at just a few centimeters per second. The Spree is a landmark of Berlin and is used in many ways for recreation, e.g. B. by excursion boats and beach bars. The Spreeinsel (including the famous Museum Island) in the center of Berlin is formed by two arms of the Spree, the Stadtspree and the Kupfergraben. In addition, a large part of Berlin's drinking water is obtained indirectly from the Spree through bank filtration. "To be baptized with Spreewasser" means something like "to be born in Berlin".
The Havel has a total length of 334 km, of which only a small section flows through Berlin, and flows over the Elbe into the North Sea. Its largest tributary is the Spree. Strictly speaking, the Wannsee is also not a lake, but the most famous Havel bay.
The Dahme, it is only 95 km short, is a tributary of the Spree, into which it flows in Berlin-Köpenick.
The Spree and Havel are rivers, but with a total of around 10 cubic meters (m³) of water per second they carry comparatively very little water through the city. The Rhine near Cologne has an annual average of around 1,000 m³ of water per second. Without the numerous locks and weirs that dam the Havel and Spree, both would only be narrow rivers, only slightly larger than Wuhle, Erpe and Panke, the three small Berlin rivers that all flow into the Spree.
But no matter where you are in Berlin - you will find water almost everywhere.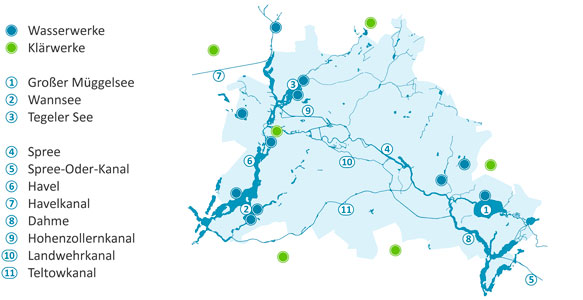 Overview of the waters and locations of the Berliner Wasserbetriebe