What is the best midi guitar system
EastWest MIDI Guitar Instruments Test
EastWest MIDI Guitar Instruments 1-5 test
Sample library for guitar MIDI controllers
Synthesizer sounds from the guitar? Yes, that is possible - im EastWest MIDI Guitar Instruments We have tested five sample libraries with which you can give your guitar a completely new sound. From the orchestra to pads from the synthesizer or voices, you will find sounds from all possible musical tastes to give your creative work a helping of variety. More information in the review.
Find out here in the EastWest MIDI Guitar Instruments Review: How good are these five virtual libraries with string sound samples for guitar MIDI controllers à la Fishman TriplePlay?
EastWest MIDI Guitar Instruments Test
All things Considered
Virtual instrument library for guitar MIDI controllers Fishman TriplePlay. With the MIDI Guitar Instruments Series, EastWest bring out a 5-part collection of virtual instruments that are specially designed for MIDI guitar systems such as the Fishman TriplePlay. In addition to guitar and piano emulations, there are also instruments from the fields of orchestras, synthesizers and voices. Guitarists keen to experiment and looking for new sounds will find what they are looking for here.
to the EastWest MIDI Guitar Instruments Review Conclusion
PER
Easy handling
Specially designed for MIDI guitar controllers
High quality sounds
Very large variety of sounds
CONTRA
Guitar emulations on single notes could be improved
For whom?
Guitarist with MIDI guitar controller.
Street price: 149.00 euros
What is it?
The EastWest MIDI Guitar Instruments Series is a comprehensive sound library for use on a MIDI controller for guitar. The samples used come in 16 bit and 44.1 kHz.
There are (so far) five parts:
Orchestra (strings, winds, woodwinds, percussion)
Ethnic & Voices (Bowed, Plucked, Voices, Wind)
Soundscapes
Guitar & Bass (acoustic guitar, electric guitar, 7-string, bass)
Keys & Percs (organ, clavinet, rhodes, vibraphone, drums)
The special thing about this MIDI library is the collaboration with the manufacturer Fishman. The EastWest MIDI Guitar Instruments Series was programmed in conjunction with a Fishman TriplePlay [test], a pioneer in guitar MIDI technology, and is specially designed for this.
You can hear how it all sounds in practice here:
---
---
EastWest MIDI Guitar Instruments review
installation
With the in-house EastWest Installation Center, downloading and installation works flawlessly. In connection with the iLok License Manager, the packages must first be authorized and then downloaded and installed after selecting the storage location.
All five collections require approximately 80 gigabytes of free space on your system.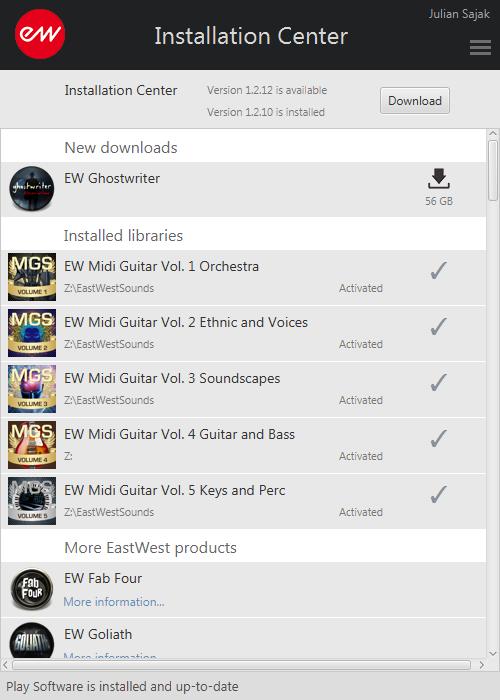 The in-house software for downloading & installing the EastWest MIDI Guitar Instruments Series
User interface
Every EastWest sample library comes with the "PLAY" user interface, which is perfectly tailored to the respective presets. Extensive modifications can be carried out here. For example, you can adjust the delay time of the instrument or the attack behavior in general.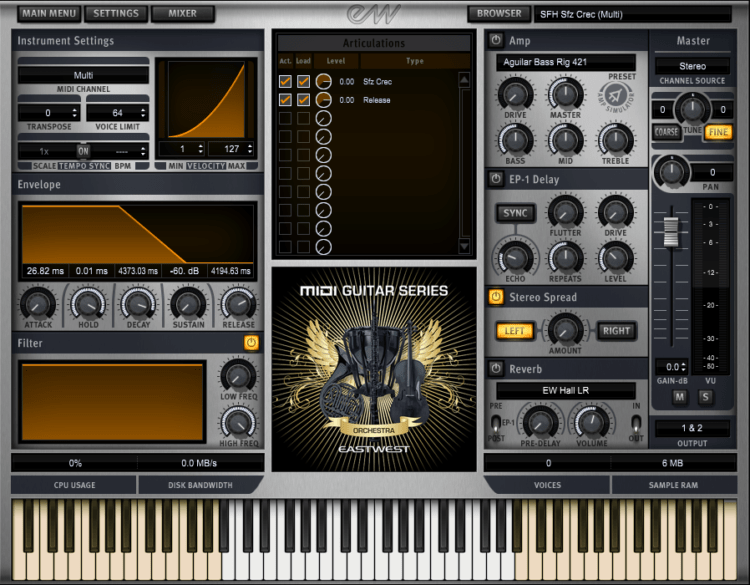 This is what the graphical user interface looks like (with small differences depending on the library)
A special feature of these five libraries is the specialization on the Fishman TriplePlay - they can also be loaded into its sampler and used directly there.
In practice, all the controls that I would have wanted to set the sound were always available.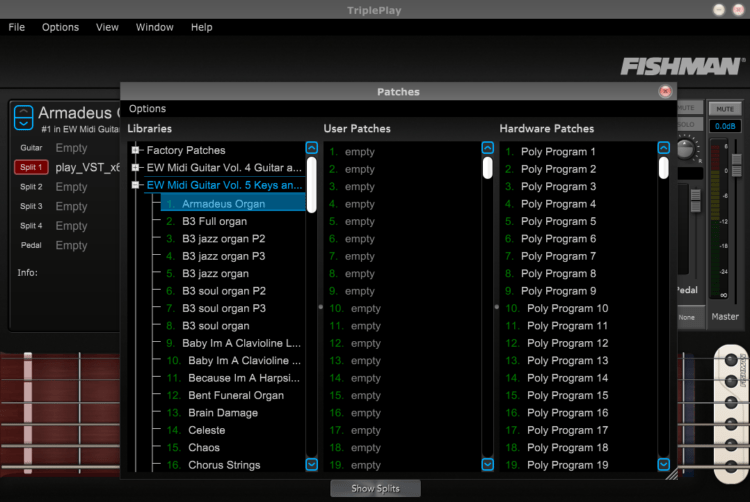 Practical: The EastWest MIDI Guitar Instruments in the sampler of the Fishman TriplePlay
Orchestra (EastWest MIDI Guitar Instruments Vol 1)
The first collection amazes with a total of 190 different orchestral instruments. Nice. In this you will of course find different varieties such as staccato, vibrato and pizzicato as well as the overall compositions.
The samples sound very dynamic. Something that is not least due to the high dynamic range, which EastWest has worked on particularly carefully. The high notes of a violin come into their own here thanks to the courageous vibrato and stimulate rousing melodies.
If you prefer to play solo instruments and do without complete orchestral samples or want to put them together yourself, this package is the best choice for you.
Ethnic & Voices (EastWest MIDI Guitar Instruments Vol 2)
Lovely voices and instruments from all over the world await you in the second part of the EastWest MIDI Guitar Instruments Series. This collection is perfect for adding an Asian sound to songs with a guzhang, or helping your band's lead singer with a choir.
Of course there are some restrictions, especially when it comes to voices. Some female voices sound more like a human synthesizer than a real person. However, this is only the case with very few of the sounds.
In return, the angelic voice of the Wales Legato Sample appeals with its variety of speech. But the extensive selection of worldwide instruments should not be underestimated here and rounds off the package first-class. As a bonus, there are Indian and Syrian women chants that sing full sentences at the same time.
Soundscapes (EastWest MIDI Guitar Instruments Vol 3)
As the name suggests, the third part of the MIDI Guitar Series is about surface synths and atmospheres. Here you will find various pads, fat orchestral and even distorted guitars that are played with a bow - Greetings from Sigur Rós.
This enormous variety of sounds makes Soundscapes perfect as an atmospheric library for film or game music.
In this collection, samples from all over the world were mixed to capture the most varied of atmospheres. From the Japanese dōjō to a winter landscape and a horror house, everything seems to be there. Atmospherically great.
Guitar & Bass (EastWest MIDI Guitar Instruments Vol 4)
This collection contains different types of guitars and basses such as Fender Precision basses or Schecter guitars. The bass simulations sound very authentic and, in addition to classic clean sounds, offer very experimental sounds that, for example, come close to the distorted sound of muse bassist Christopher Wolstenholme.
However, when it comes to chord progressions, Volume 4 is at its best. When it comes to strumming, an acoustic guitar can hardly be distinguished from a real one. The rest of the guitar department is not at the same level: Individual notes or note sequences sound very digital and don't really come across. Sometimes it reminds me of a guitar in a notation program.
Keys & Perc (EastWest MIDI Guitar Instruments Vol 5)
With the last sample pack, the manufacturer invites you to take a trip to the keyboard and percussion department. The drum section is a bit clear with just 15 samples. In addition to classic drum compositions, you will find presets that are based on films such as the Lion King or Lord of the Rings. Depending on the preset selection, the drums look like the rumble of thunder or an army approaching.
On the other hand, you will find extensive keyboard sounds here. In addition to noise synths, there are also jazz pianos, various organs and other instruments such as a xylophone or vibraphone. In the classic keyboard style, you will find a combination of typical sounds that many keyboards already bring with them and are commonly referred to as bread-and-butter sounds.
Conclusion on the EastWest MIDI Guitar Instruments test
For currently 149 euros per volume from EastWest MIDI Guitar Instruments, you as a guitarist get access to good to very good sounds from all conceivable directions - with everything that goes with them. Especially owners of the Fishman TriplePlay will be happy about it, because this sample library was programmed with it and optimized for it.
The areas of application for this sound library can be varied. It can be used as an enrichment both live and in the studio. If you like film music, you will be well served with the Soundscapes, Keys & Perc and Ethnic & Voices.
I find a good solution that the manufacturer does not offer the sound library as a whole. Instead, the sounds are offered well categorized so that everyone can shop according to their own preferences.
The price is justified. Only the Guitar & Bass Library doesn't sound quite as good as the rest of the series. This has to do with the fact that guitars are very difficult to emulate - even if they are played from another guitar.
Volume 3 Soundscapes in particular brings me a lot of fun due to the huge range of experimental sounds. All in all, the EastWest MIDI Guitar Series shows its best side and the small weaknesses are forgivable. I gave it four out of five points in the review.