Where did Jihadi John go?
Identity of IS terrorist revealed: the executioner Jihadi John
He comes from a wealthy family and grew up in London: Mohammed Emwazi. He is said to have beheaded the US photographer James Foley.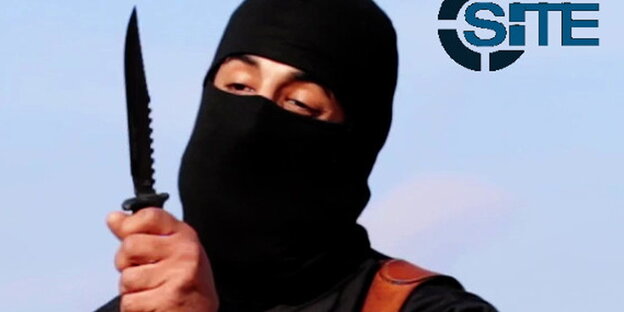 Studied computer science before disappearing to Syria and becoming radicalized: Mohammed Emwazi. Image: Reuters / Site Intel Group / Handout
The young man can be seen in several videos of the terrorist organization Islamic State, in which he appears masked and mocked the Western governments with a broad London accent.
He first appeared in a video last August in which he apparently beheaded US photographer James Foley. The British secret service MI5 has now published the real name of the IS executioner. It is said to be Mohammed Emwazi, a British citizen born in Kuwait.
A friend of Emwazi's said that Washington Post: "I have no doubt that Mohammed Jihadi is John. He was like a brother to me. "Asim Qureshi from the British human rights organization CAGE confirmed this. He was in regular contact with him from 2009 until Emwazi's disappearance in 2012.
Emwazi comes from a wealthy family and grew up in West London. Sometimes he went to the mosque in Greenwich. He was polite, wore fashionable clothes and avoided eye contact with women, say his friends. He studied computer science at the University of Westminster.
After graduating from university, he planned a safari in Tanzania with two friends in May 2009. On landing in Dar es Salaam, however, he was arrested and deported. Emwazi flew to Amsterdam, where an MI5 agent said he was accused of actually traveling to Somalia and joining the Islamist Al-Shabaab militia in the south of the country. Emwazi denied this, claiming MI5 was trying to recruit him. Friends say that sparked his radicalization.
In 2010, Emwazi traveled to Kuwait, the country of his birth, but returned to London twice to prepare for his wedding to a Kuwaiti woman. But in June 2010 the British authorities prevented his departure. "I feel like a prisoner in London, even if not in a cage," he wrote in an email to Qureshi. A friend at the time said Emwazi just wanted to leave the UK and start a new life somewhere. He succeeded in 2012. He disappeared to Syria.