What is the Easiest Movie Maker Software
5 Best Windows Movie Maker Alternative Programs [2021]
5 Best Windows Movie Maker Alternatives Programs [2020] Windows Movie Maker Alternatives Windows Movie Maker continues to enjoy great popularity. Right? No! We introduce 5 better and more modern alternatives for Windows Movie Maker.
Although the "Windows Movie Maker" integrated in earlier Windows operating systems was abandoned by Microsoft years ago, it is still very popular - even though Microsoft no longer offers the application under Windows 10, does not bring out any updates and it even removed it from its website. Hobby filmmakers and video editors still appreciate Windows Movie Maker because of its ease of use. With Windows Movie Maker, you can Add text, Edit music, combine multiple clips or create a green screen video.
But with the limited functionality of Windows Movie Maker 2012, video editing quickly reaches the limits of what is possible. Which video editing programs are the best alternatives to Windows Movie Maker on Windows 10 or macOS? What can you do if Movie Maker doesn't work? In this article, we have compiled 5 free or paid video editing programs for Windows that, like Filmora X, place great value on beginner-friendliness.
The best alternatives to Windows Movie Maker [2021] (free and paid)
# 1: Wondershare Filmora X
Wondershare Filmora combines the beginner-friendliness of a movie maker with professional video editing functions. The Video Editor for Windows and Mac makes it easy for you, one of the greatest strengths of the software is the over 800 built-in video effects, license-free music tracks and sound effects. You can apply the effects in the form of transitions, filters, overlays and graphic elements to your videos with just one click. For this purpose, tools are available that are mostly only available in professional video editing programs such as Adobe Premiere, such as green screen, picture-in-picture, tilt-shift, color correction, video stabilization, as well as recording your screen and accompanying comments. Download Filmora for free now and try it out! The trial version is restricted by a watermark in the finished videos, which you can remove by purchasing the inexpensive software.
---
Buy Filmora on your smartphone and get an exclusive discount!
15% discount on Win15% discount on Mac
* Product and billing information will be emailed to you after purchase.
---
Ease of use, huge selection of effect templates, license-free music, advanced editing functions
Watermark in free version

More learning videos here >>
Comparison of functions: Filmora V.S. Windows Movie Maker
Windows Movie Maker
Filmora X
Music library
x
√
Transitions & Effects
little
much
Text & Caption Presets
Apartment
Many
Audio Denoise, Equalizer & Audio Mixer
x
√
Filters
x
√
PIP & overlay
x
√
Trim, split, cut & combine
√
√
Pan & Zoom
√
√
Stabilization
√
√
Timeliest fashion
x
√
Green Screen (Chromakey)
x
√
Split screen
x
√
Color correction
x
√
Action camera edit video
x
√
---
# 2: Microsoft Story Remix
Many Windows 10 users don't know that Microsoft is an unofficial Alternative of the Movie Maker integrated into the operating system. The application called Story Remix can be found when you open the standard Windows 10 photo app and click on "Create new video" or "Create video automatically". The video editor is aimed at users who do not want to deal with video editing, so the range of functions is even less than with Windows Movie Maker. With Story Remix, you can choose to let the software create a video, simply selecting the video clips to be used, or you can edit your video yourself. The program allows you to set the duration of the video, add photos, and apply filters and music to your video.
The heart of Story Remix is ​​the library of 3D effects. The video editor offers animated 3D graphics such as dinosaurs, which you can apply and adapt to your video with 1 click. The effects are great fun - for serious video editing, however, Story Remix is ​​unsuitable for its limited functionality and lack of a timeline.
Very simple operation that children can also get along with
Cool, customizable 3D effects and selection of background music
Not a full-fledged video as the software has no timeline and few functions
| Windows version | Main functions | price | website |
| --- | --- | --- | --- |
| 10 | 3D effects, filters, music, automatic video creation | Free of charge, more effects with an Office 365 license | windows-story-remix.de.malavida.com |
---
# 3: Avidemux
Avidemux is the classic among the beginner-friendly freeware programs for editing videos. The user interface of the free video editor is a bit out of date, but practical functions for video editing are hidden behind the old-fashioned facade. You won't find a timeline in Avidemux either, but you can cut your videos and apply transition effects, filters and music. The program is also ideal for converting videos into other file formats. If you are looking for a video editor that is just as easy to use as Windows Movie Maker, it is worth taking a look at the free Avidemux.
Clear user interface for easy operation, offers effects for transitions and filters, as well as music
Old-fashioned user interface with no timeline
| Windows version | Main functions | price | website |
| --- | --- | --- | --- |
| Windows Vista, 7, 8 and 10 | Video editing, coding, filters, transitions | Free | avidemux.sourceforge.net |
---
# 4: shotcut
Shotcut is an alternative that offers significantly more functions than Movie Maker. The free open source video editing program scores with a modern user interface, which, however, requires some training. In view of the many functions, the demands are significantly greater than with Microsoft's Video Editor, but you have significantly more options. You cut your videos in the video editor's timeline, which greatly simplifies complex edits. Shotcut also offers a relatively large selection of effects such as filters and transitions. If you are willing to invest some time, Shotcut is definitely recommended.
Modern user interface, relatively large range of functions, integrated video effects
Effects are not shown in preview
| Windows version | Main functions | price | website |
| --- | --- | --- | --- |
| Windows Vista, 7, 8 and 10 | Video editing, video and audio filters | Free | shotcutapp.com |
---
# 5: Videopad Video Editor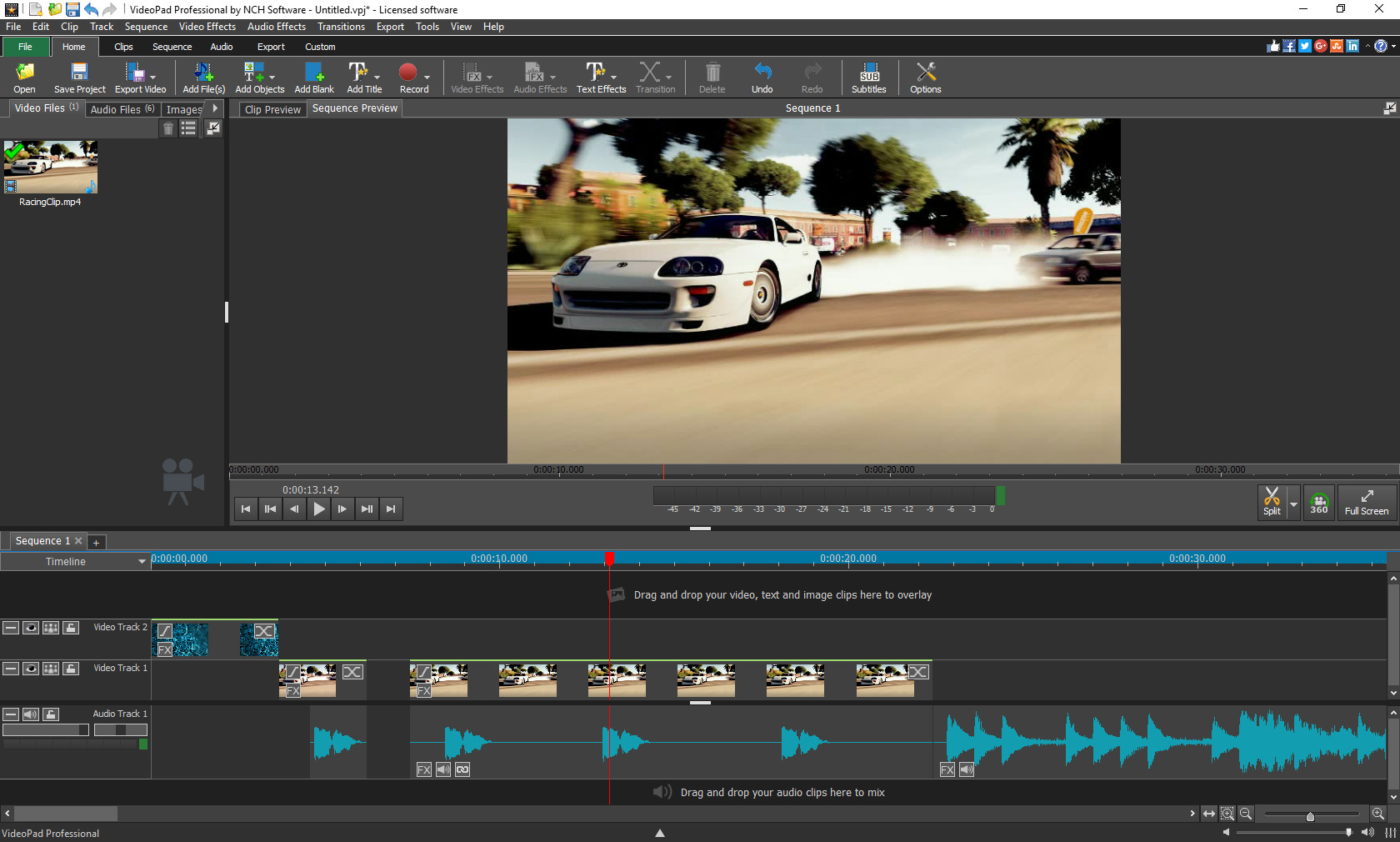 The Videopad Video Editor from NCH Software shows what Windows Movie Maker could look like if Microsoft had developed it further. The user interface is very similar to that of Microsoft Video Editor, but offers significantly more functions. So edit and cut your videos with a multi-lane timeline that you can also apply effects like transitions and filters to. Videopad supports various video formats, including 360 ° videos. The beginner-friendly video editor can be used free of charge in a functionally limited version, but only for non-commercial use.
Modern video editor with extensive options, easy to use for beginners
Hardly any effect templates, limited free version
| Windows version | Main functions | price | website |
| --- | --- | --- | --- |
| Windows XP SP3, Vista, 7, 8 and 10 | Video editing, transitions, editing of 360 degree and 4k videos | Free version, more functions from 29.99 € | nchsoftware.com/videopad/ |
Is Windows Movie Maker still recommendable these days?
In our memories, things often appear to be more beneficial than they actually are or were. Windows Movie Maker is no exception. So let's take a look at the advantages and disadvantages of the video editor to see if it is still a good option for editing videos today.
Windows Movie Maker 2012 can be downloaded free of charge from sites such as CNET, Softonic or Chip.de
Easy entry into video editing thanks to the clear user interface
Provides functions for video editing and adding transition effects
Use it to create slideshow videos with background music
Few editing functions
Only one video track - complex video projects cannot be implemented with the program
Runs unstable and crashes may occur more frequently
Compatibility problems under Windows 10
Conclusion
Windows Movie Maker is still suitable for simple video editing, but it is not really a pleasure. The software is hopelessly out of date, has very few features, and tends to simply crash on larger projects. If you don't want to deal with the flaws of the Movie Maker, we introduce you to 5 programs below that represent a much more modern and user-friendly alternative to Microsoft's Video Editor. The order is chosen arbitrarily and does not reflect the quality of the respective program. You can click products name to review.