The government is investigating the underground economy
Subject 52 - Water Management
With its lakes and rivers, the water region Swabia has to preserve valuable treasures. The water management department, together with the Donauwörth and Kempten water management offices, takes care of the more than 18,000 km long Swabian network of streams and rivers, the lakes and the groundwater. The water management experts advocate water as a component of the natural balance and as a habitat for plants, animals and people. They are committed to enabling responsible and sustainable use of water above and below ground.
Especially now in times of climate change, her tasks include the secure future of municipal water supply and wastewater disposal as well as protecting people from the dangers of water. For this purpose, water levels, runoffs and water quality are continuously measured and evaluated by the specialists. Dealing with the flood risk, flood protection, the water supply balance and projects are current priorities for action.
---
Water management offices in Swabia
The two water management offices in Kempten and Donauwörth are responsible for Swabia. They are the first point of contact for all water management issues.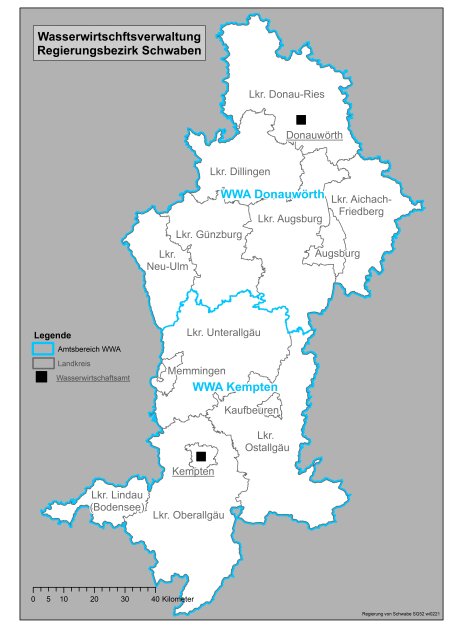 Water management in Swabia
Securing the water supply is one of the most important core tasks of the water management administration. This includes questions of the management and protection of the resource groundwater as well as the assessment of the most sensible structure of water distribution in terms of water and macroeconomic considerations. This task as a competent contact person for the water supply providers can only be fulfilled if current data is available. These were compiled as part of the water supply balance for Swabia.

Water supply balance in Swabia
Our focus in Swabia is environmental education and a model project for groundwater-friendly agriculture.
Because it works better together, we work with educational institutions, water suppliers, farmers as well as associations and citizens. Together we can achieve a rethink towards more sustainability and a conscious use of the valuable resource water.

You can obtain detailed information from the groundwater protection campaign.
The campaign "Look at the pipes" is an initiative of the Bavarian water management administration in cooperation with Bavaria's central municipal associations and water authorities.
up