What is digital radiography in dentistry
Digital X-ray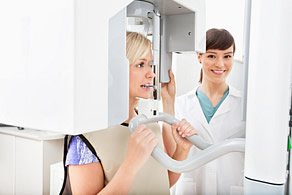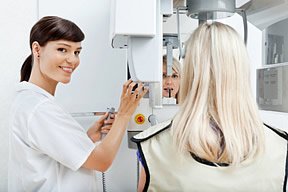 Digital X-ray is increasingly replacing conventional recordings in dentistry. In our dental practice only digital x-rays are created. Faster diagnoses, fewer repetitions, better communication with the referring colleague and, above all, the reduction in radiation exposure through lower radiation dose for the patient by up to 90% are the decisive advantages of these X-ray systems.
In our dental practice only x-rays are created by a digital x-ray system. The digital X-ray system enables faster diagnoses, better communication with the referring colleague and, above all, the reduction of radiation exposure by up to 90% for the patient, are the decisive advantages of digital X-rays with a modern X-ray system.
Video: Digital X-ray at the dentist Dr. Seidel
Digital X-ray at dentist Dr. Seidel guarantees the lowest possible radiation exposure of the body and at the same time protects the environment. We explain the process.
What is digital x-ray (radiography)?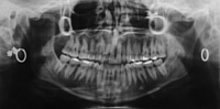 Digitized X-ray (radiography) is an imaging process that does not expose a conventional X-ray film, but a special foil.
Instead of the chemicals and X-ray films previously used, this X-ray system stores the X-ray image recorded by a special reader in a computer. Therefore, digital x-ray systems are becoming more and more important in medicine.
Digital X-ray systems at dentists
In dentistry, digitized x-rays are mainly used to diagnose and monitor the course of the disease. Before treating a periodontal disease, performing a root tip resection, inserting dentures or removing a wisdom tooth, it is necessary to take digital x-rays.
How does the digital X-ray system (digital radiography) work in diagnostics?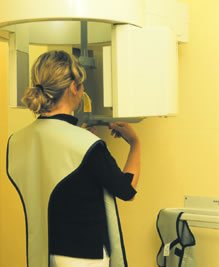 X-rays are used here, which penetrate tissue, bones and teeth and - depending on the technology - impinge on image plates or special sensors. The imaging plate preserves the impression for up to eight hours and is then "developed" in a special device. In contrast to the usual storage disks, however, no chemicals are involved in this.
In the variant with sensors, the image is read directly into a program by the X-ray equipment and can be called up immediately on the computer. The computer-aided procedure for dentures CEREC also works with a digital recording device. Thanks to CEREC technology, teeth can be restored quickly and cost-effectively.
Interesting facts about X-ray images from digital X-ray systems
In digital as well as in conventional X-ray radiation, the radiation is "slowed down" to different degrees by different tissues. As a result, depending on the field, a corresponding radiation intensity reaches the sensors or image plates. The small amount of radiation in digital X-ray is explained by the shorter exposure time required with high resolution at the same time. The subsequent transport is possible online in a matter of seconds thanks to the digital form.
Modern technology also offers the advantage of processing the images. The images can be enlarged, the contrast or the brightness can be changed. This makes it easier to see details. This in turn can avoid repeated recordings and thus reduce the radiation exposure for the patient.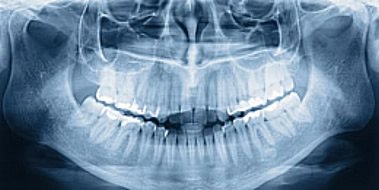 Another advantage of digital radiology is the simplified constancy check, i.e. the quality check of the measurement parameters. During this, all devices involved are tested and adjusted accordingly in order to avoid reading errors and other problems. Since there is no need for chemicals to develop the recordings, the number of possible sources of error and test areas is also reduced. The constancy test can be carried out by trained practice staff without any problems and with little effort.
What are the advantages of digital X-ray systems compared to conventional X-rays?
Digital X-ray is a pioneering method that has decisive advantages over conventional X-rays:


A reduced radiation exposure by up to 90%
sharper image quality of the X-ray images, post-processing options
No use of X-ray films
Digital archiving (cost and time savings, environmental relief)
Improvement of the direct communication between colleagues dealing with interdisciplinary treatment, as X-ray images can be sent via email
What are the risks of an X-ray imaging system?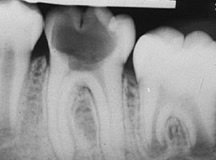 Radiation affects every human body in everyday life; the dose is increased again when flying and x-raying. The actual exposure, however, differs from the physical condition, the location of the rays and the intensity.
The radiation can promote the degeneration of cells and thus the development of cancer. The risk and benefit should therefore be weighed individually in each case. It should be noted, however, that modern x-rays - if digital - only make up 10 percent of the radiation exposure of ordinary x-rays. A digitally created panorama image of the teeth with a flight of about half an hour is comparable.
In dentistry, implantology and before complex treatment, X-rays can also prevent numerous risks.
Modern X-ray system during pregnancy?
Even if the radiation exposure is lower than with conventional X-rays, X-ray examinations that are not absolutely necessary should be avoided during pregnancy. The danger for the unborn child is particularly high in the first 3 months of pregnancy due to increased cell division. Before each x-ray, we therefore clarify with our patients whether they are pregnant so that we can take appropriate protective measures.
Other imaging procedures
Digital volume tomography (DVT) is a three-dimensional, imaging tomography procedure using X-rays. MRI (magnetic resonance imaging), also known as magnetic resonance imaging, is one of the imaging processes. The term tomography (also often called tomography) comes from the Greek and means sectional image.
Costs and prices for digital x-rays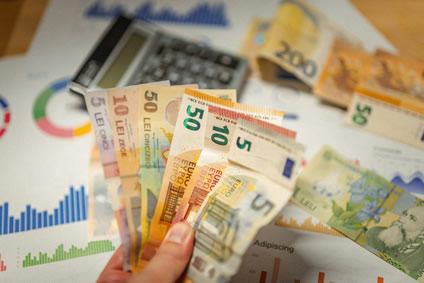 In terms of costs, there is no difference for patients between conventional and digital X-rays. Statutory or private - the health insurance companies bear the costs incurred for the examinations in full. However, digital x-ray images, such as those offered in our practice in Berlin, protect the environment and health.
Would you like to learn more?
Call us now and make an appointment for a free and non-binding consultation at:
033203/85200
---
New article
No. 1 of Leonore Krupp
Very nicely and clearly presented for a layperson, but my fear of this intervention remains! It is questionable whether I should have such an operation at the age of 79, as I have no symptoms at all and only noticed through the fracture of the upper, last molar that there is inflammation at the tooth root where the dentist cannot do anything with medication.
No.2 of Dr Seidel
Hello - The fear of the dentist can be relieved of you in a relaxed manner. The digital X-ray is a painless, imaging diagnosis of your teeth, which is also very little "exposed to radiation". If your root remains can no longer be preserved, they can be removed, e.g. in twilight sleep.

Dr Seidel
---
Last update of this page on May 20th, 2021 by author Dr. Frank Seidel.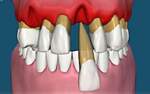 Tooth loss is one of the most common diseases of civilization today. The causes of tooth loss can be varied. Here you can find out ... read more »
Smokers have an increased risk of periodontal disease. The insidious: the symptoms are usually weaker than the actual course of the disease. It has been proven that smokers lose ... read more »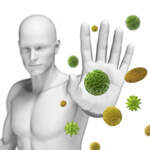 Fixed dentures are made possible with implants - regardless of the initial situation. But what about the compatibility of the materials used ... read more »
Free patient consultation in the evening at the dentist Dr. Frank Seidel. Because the patients in ...
Register now »