Why have board games become more popular
Board games are booming in the pandemic
In order to keep up with the booming demand for board games, manufacturers have to invest heavily to expand their production capacities. The world market for board games is estimated at around 15 billion US dollars, that is 12.4 billion euros. This segment is currently growing faster than the overall toy market, not least because more and more adults are getting a taste for games.
"Puzzle games for adults have increased by around 50 percent, one-person games by more than 20 percent," said Hermann Hutter, President of Spieleverlage e.V., the German industry association, to DW.
Board games have already seen solid growth in recent years because many households are striving for "digital withdrawal" and want to spend less time with smartphones and video games. The lockdown measures during the pandemic have exacerbated this development in the traditional game markets of North America, Northern Europe and the Asia-Pacific region. Board games are also becoming increasingly popular in relatively small markets such as southern Europe.
"We grew in all regions last year - fastest in the USA and Great Britain," said Clemens Maier, CEO of Ravensburger AG, to DW. The turnover of the southern German company, which sells board games and puzzles worldwide, grew by 20 percent in the past year, he adds.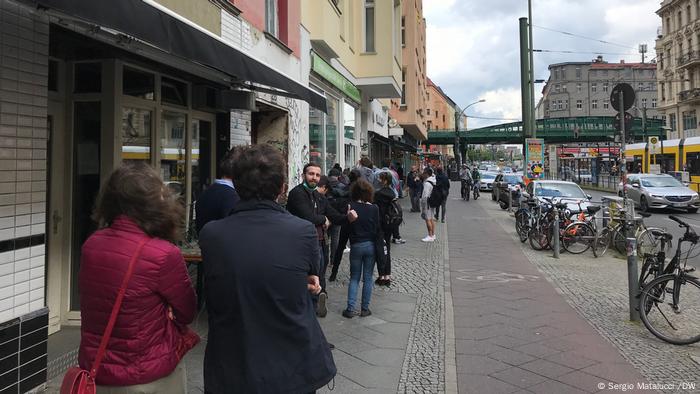 Customers are queuing in front of the "Brettspielgeschäft.Berlin"
Changed demand
Games for children, on the other hand, haven't done particularly well in 2020 unless they are educational. In Italy, for example, toy sales fell by eight percent. Board games for several players also underperformed.
"In the past, complex strategy games in particular were in high demand, even in English," says Josef Anders, owner of the Brettspielgeschäft.Berlin, to DW. "Today it's more family games and games for two people. We are now seeing customers who would otherwise not play."
Puzzles and classic board games are particularly popular right now, suggesting that many older people are returning to childhood adventures to find some distraction during difficult times. "The most popular games were what we would call evergreens - games that people are familiar with and that have a story," said Samuel Susz, director of marketing at Toronto-based Spin Master. The Canadian toy and entertainment company had "an incredibly productive year," with US sales up 25 percent, Susz told DW.
Happy days in the game mania

Between luck and strategy

Dice, cards, board games - everything a game lover's heart desires is represented at the fair in Essen. The "Spiel '19" is considered to be the largest exhibition in the industry. The market for parlor games has been booming for five years. During this period, sales increased by 40 percent. Many a branch of industry can only dream of this.

Happy days in the game mania

Take a shower!

Samira (7, left) prefers to take cover. Because with "Tschaka, Alpaka" the pack animal spits water when the time is up. Not only speed, but also skill is required when the pieces of luggage are stacked on the alpaca's back. Of course, nothing should fall down.

Happy days in the game mania

Target group 18+

But adults are not necessarily the drivers of growth. They are also willing to spend a lot on their hobby. A detailed game costs well over 50 euros. The chairman of the industry association for games publishers, Hermann Hutter, has a simple explanation for the ongoing trend: games are the "analog antidote to digitization".

Happy days in the game mania

Bigger year after year

The organizers are therefore expecting a rush of visitors like here last year in Essen this time too. They are hoping for 200,000 visitors - that would be a new record. The number of exhibitors, the number of new games presented and the size of the exhibition area has also grown again. Is it still feasible to work through all areas in four days of the fair?

Happy days in the game mania

Bird lovers, watch out!

Award-winning games such as "Flügelschlag", the "Kennerspiel des Jahres" and winner of the German Game Award can also be tested. At first, skeptics doubted that the North American bird world would really interest game fans. The development was a Sisyphean task for the author Elizabeth Hargrave. She selected 170 species of birds and meticulously researched their way of life.

Happy days in the game mania

The nostalgia factor

But it doesn't always have to be the latest ideas that spark. Spika-Verlag is reissuing board game classics from the GDR. Shortly after German reunification, these were only available second-hand. The new editions should make the hearts of game lovers with an Eastern biography beat faster. But everyone else should also dare a game with the "bear children", for example.

Author: Uta Steinwehr
The popularity of board games is not only influenced by the pandemic, but also by digitalization. "Children used to play board games up to the age of twelve; nowadays, many of them switch to the digital world at the age of eight," says Hutter from the games association. "But at around 15 years of age they find their way back to board games. At that age, that's considered sexy and cool, just as it is cool and sexy for older people."
Supply chain problems
The unexpected boom had multiple effects on the supply chains, especially for toys, 80 percent of which are produced in China. In spring 2020, companies with production facilities abroad had to wait longer than usual for deliveries. At the beginning of 2021, deliveries from China are still a problem, says Hutter from the industry association, because the prices for container transports have quadrupled compared to the same period last year.
In the case of simple board games and puzzles, however, the dependence on imports is not so great because they are mostly produced in Europe. According to Hutter, companies like Ravensburger (Germany) and Piatnik (Austria), which produce their games in the EU, were able to react faster than competitors with long supply chains.
But the booming demand for certain game categories is also causing difficulties for European supply chains. "We have factories mainly in Germany, Poland, the Czech Republic and the Netherlands. But here too we have logistical problems," says Hutter.
The delivery times of the German game manufacturer Ludo Fact are usually between six and eight weeks, now it is 12 to 16 weeks. Ludo Fact produces for 120 companies, but has reached its capacity limits. "You can't just double production within a year," says industry representative Hutter.
In the winter months, many board games were largely out of stock, including the "Corona" dice game, which a family had self-published. The US hit "Cards against Humanity" was also hard to find in Berlin shops before the winter break.
According to Clemens Maier from Ravensburger, the governments' corona restrictions have so far had no significant impact on the availability of machines that are required for the production of games and that mainly come from Italy and Germany. In other words, the supply side can adapt, but it takes more time to expand its capacity.
Gaming businesses still suffer
The pandemic has also changed the way games are sold. "Online sales make up a significant part of the overall market," said US market research firm Arizton Advisory & Intelligence to DW. Retailers point out that demand was particularly high during the lockdown period.
"Our turnover, like the turnover of the entire branch, has grown by double digits," says Josef Anders, owner of Brettspielgeschäft.berlin. "But that was not enough to compensate for the weeks of closings, especially around Christmas time."
In addition, the costs have increased "drastically". "In our case by more than 40 percent," says Anders, because he enlarged the sales area and increased the staff in order to meet the Corona requirements - before the complete closure was imposed in mid-December.


Adaptation from the English by Andreas Becker
Boom industry board games

In the race against the melting ice

Matteo and Thilo (eight and eleven years old) play a game of "Cool Runnings" with their mother. In the game, the game pieces contain real ice cubes. They have to cope with enemy attacks in the form of a pinch of salt, a water bath or body heat. Whoever saves his ice cube first before it is completely melted wins.

Boom industry board games

Royal tile department

The placement game Azul was awarded the German Game Prize as the best family and adult game. The players slip into the role of tilers. The task: Tile the walls of the Portuguese royal palace in Evora. Those who decorate the royal walls with well-combined tiles earn points.

Boom industry board games

Collective memory

And another award winner: the award for the best children's game, recommended for ages eight and up, was awarded at the start of the game fair "Memoarrr!". The game combines elements of the classic memory with the fictional treasure hunt on a volcanic island.

Boom industry board games

Put on the wrong map ...

... had anyone who believed the parlor game to be close to extinction. Analog games were booming, said Hermann Hutter from the industry association "Spieleverlage" at the opening of "Spiel '18". In the first eight months, sales increased by 16 percent. Accordingly, the association is looking to the future with good cheer: For 2018, Hutter expects sales of "well over 500 million euros".

Boom industry board games

The digital competition

Compared to the digital daddling market, sales in the analog industry are rather modest. According to the industry association Game, total sales of video games in Germany grew to 1.5 billion euros in the first half of 2018 alone.

Boom industry board games

You can also do without electricity

So differently than at the video game fair Gamescom, most of the games in "Spiel '18" cannot be unplugged. This is also the case with the skill game "Glisse Glace", in which you have to maneuver the penguin protagonists around on their wooden ice floes.

Author: Sven Töniges