Can Israel defeat the US?
Jean Asselborn on the USA and Israel: "A robbery of territory"
The US President must not further widen the gap in society, says Luxembourg's Foreign Minister Asselborn. He also criticizes Trump's Israel policy.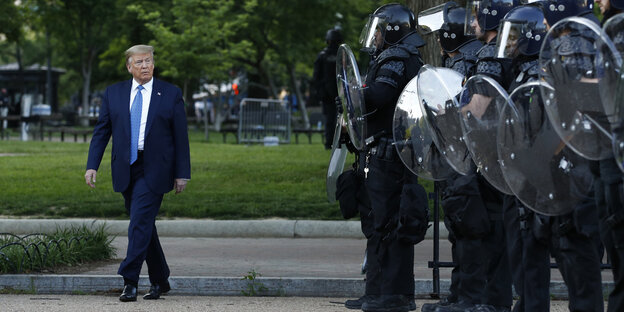 Trump under police protection after his fellowship visit to the church Photo: Patrick Semansky / ap
taz: Mr. Asselborn, the world is in turmoil. China is pressing Hong Kong, there are mass demonstrations in the USA, Trump is threatening his own people with the military. But little is heard from the EU.
Jean Asselborn: I wouldn't say that. At our last video conference last Friday, we as EU foreign ministers discussed the situation in Hong Kong and China in great detail.
Why did you keep quiet about what happened in the United States after George Floyd's death?
At the meeting, the consequences could not yet be foreseen. This only became apparent in all its drama over the weekend. However, that does not mean that we are silent. From my point of view, it would be very good if US President Trump understood beyond Twitter that America can only become "great" again if racism is clearly condemned. The right to peaceful protest must be guaranteed one hundred percent.
A president is not there to widen the gap in society. And he should finally understand that social injustice in the USA is a major cause of the uprising. The situation is very explosive and it cannot be defused if the President widen the gap.
Why did it take so long for the EU to comment on the US crisis?
We are not Russia, China or the USA. There is no button in Brussels that you can simply press to get an explanation out. Everything has to go through the European mills ...
... and they grind very slowly. Another example is the Middle East crisis. Israel is preparing to annex parts of the West Bank, but the EU is watching.
No, the EU foreign ministers discussed the Middle East crisis for four hours on May 15th. We then formulated a very clear position - the annexation would be a violation of international law - and warned Israel against taking this step. The fact that 25 out of 27 EU countries have agreed to this is already a success.
Hungary and Austria do not support the EU position. And Germany is against sanctions. Does that annoy you?
Foreign Minister Heiko Maas has spoken out clearly against annexation. The main problem is Hungary, which is systematically blocking any position on the peace process. It is most regrettable that we cannot speak with one voice.
Do you understand the German attitude towards Israel?
Germany is still bearing its historical burden heavily, I cannot criticize the German attitude. However, I would like to state that if you criticize Italy's ex-interior minister, Matteo Salvini, as I did, then you are not an anti-Italian. And if you criticize Benjamin Netanyahu, then you are far from being against Israel or even an anti-Semite. Many Israelis want a two-state solution, just like we do.
Are you in favor of sanctions against Israel in the event of annexation?
We should not talk about sanctions now, but do everything we can to prevent it from getting that far. I am also interested in keeping the EU together. We still had a clear position on Middle East politics until 2016, then Trump came along and questioned everything. It also exerts a negative influence on some EU countries.
Today we are no longer able to write our position on a piece of paper - international law is clear: It is about a two-state solution within the borders of 1967 with Jerusalem as the capital of the two states. The EU has a duty to defend international law, that is our core business!
Was that what you meant by your controversial comparison with Crimea?
Yes. An annexation is the robbery of territory that belongs to another country. In principle, I don't see any difference between Crimea and the West Bank.
So should we also talk about EU sanctions against Israel?
The Crimean comparison says it all. I do not want to say more.
The EU Foreign Affairs Representative Josep Borrell calls for the EU to learn the "language of power". Aren't we just experiencing Europe's impotence?
We are not a military power, and neither will we be in the foreseeable future - in the next few decades. But we can defend ourselves, as the nuclear deal with Iran has shown. That is why Iran was unable to build an atomic bomb! The same is true of Israel and Palestine: our power rests on the strength of international law. However, we can only exercise this if we have a common position - that's what it's about.