The 17th amendment was a good idea
Marriage proposal at the picnic
A marriage proposal at a picnic leaves little to be desired in terms of romance. There are two of you, outdoors and you can enjoy a wonderful atmosphere.
Here we have two examples of marriage proposal ideas around the picnic.
---
---
1. Marriage proposal at a picnic in a meadow
We met at a birthday party. I was 14 years old at the time and went there with two of my friends. When I saw him for the first time, I immediately thought he was "cute". At that time he was 17 years old and therefore a lot (at least 3 years) older than me. When we talked I realized that he was not only cute but also soooo serious and mature than the boys my age was. We got along very well.
However, after the birthday was over (for us very early that evening, since we were only 14 years old and had very strict parents for our tastes), I thought I wouldn't see him again afterwards because I didn't dare had to ask him for his phone number ...
My friend, who fortunately wasn't as shy of contact as I was, didn't face the same problem and made friends with him and the other boys very quickly. It didn't take long before they became best friends and of course I saw him often.
We liked each other very well, and it wasn't long before the two of us did things as well. The fact that he was even more shy than me didn't make it easy, though. So it actually took six months before he managed to tell me that he liked me and that only after vehement confirmation from my friends that I would not reject him.
He had written to me that he would like to meet me and talk about something with me. After I got to his house (he was still living with his mother) we talked about general things for a while. Only after I asked him what he actually wanted to talk to me about did he come out with the language.
He sat down next to me on the bed I had sat on and said, "I wanted to tell you that I like you and that I think you are totally cute." He turned red like a tomato. "Oh god, I'm so stupid". I was breathless, after all, I had waited six months for him to finally say these words to me. "No, you're not stupid," I said quickly. "I'm stupid because I haven't done that before." I leaned over and kissed him.
At that very moment his mother called out from the kitchen: "Food is ready!" As if she had sensed that we were in this beautiful (and incredibly embarrassing) situation ...
————
We have been a couple for over 8 years now, have lived together for a number of years and have seen some ups and downs in each other's lives. In the course of time it became clear to both of us that we would like to spend our lives together and also start a family together. We haven't really talked about marriage in all that time, somehow we both just knew that this would be the next step. Only when ... That was left open for now.
In June of this year my sister wanted to do something with me again. A nurses day on which we would only spend time as a couple. She had come up with something and wanted to surprise me with the program. She just told me to wear something pretty but not too festive.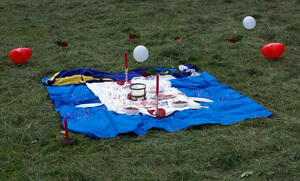 When my sister arrived, she pushed a basket into my hand (of course I wasn't allowed to look inside) and drove off with me. We drove to a piece of forest that was directly connected to a field. "Get out of the car, I'll just park the car quickly," she said to me. As soon as my feet touched the ground, she drove backwards at full throttle and left me standing in the middle of nowhere, completely perplexed ...
As I looked around, my friend suddenly came around the corner. A red rose in hand. He led me to the meadow where he had prepared a picnic. I was absolutely thrilled! Since I had just recently accused him of not doing anything romantic anymore, I thought that he just wanted to please me.
We sit down and enjoyed our picnic (although nature, in the form of beetles and other animals, attacked us and the decorative hearts that he had laid out were stuck to us).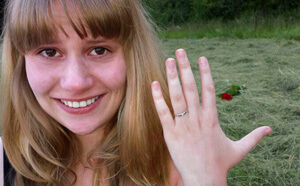 He fed me fruit that he had even cut into the shape of a heart and asked me to close my eyes as he did so. When I finally opened it again, he was holding a ring in his hand and asked the question of all questions for the marriage proposal: "Do you want to marry me?" My "yes" came like a shot from the pistol, but was hardly to be understood under the tears of joy.
This engagement story was sent to us by Eva Z.
---
---
2. Marriage proposal with picnic in a cave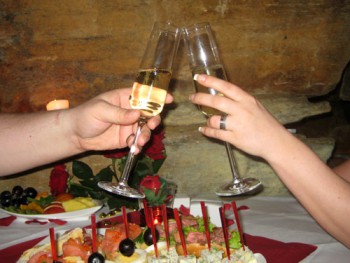 When I worked at the Kronen Zeitung 6 years ago, I was just divorced, looking for an apartment and actually not prepared for a new relationship.
But everything should turn out differently:
I got to know my Tomasz at work. I didn't even notice him at first. It wasn't until he approached me and invited me for a cocoa at the company that I became aware of him.
We hit it off right away.
Our first real date was at his house, where we did a DVD evening. It was very funny, we talked and laughed a lot. I've had a lot of fun again for a long time. I immediately decided that I have to see him again!
Our meetings were then repeated very often. I drove all over Vienna to be with him and we fell in love. After a certain amount of time I was quite sure: This was serious and I decided that he should also get to know my then 6-year-old son Andreas. The two hit it off right away and are best friends to this day. Tomasz really does everything for Andreas. I'm really happy that my son goes to school and says: "I have two dads".
So I thought to myself, I would propose marriage to my sweetheart. Usually the man does it, but I wanted to take it into my own hands.
We had planned a vacation together in Loipersdorf. Since we had been together for almost 5 years, I used this as my chance to propose to him. So I started to think about the best way to do it, until I came to the decision to record my message to him on a dictation machine and to come out with roses and rings after the recording was finished.
Of course, I still had to think about the right time and place for it. So I called the hotel and told the receptionist about my plans. Everything was quickly arranged: a picnic in the garden in a lovely little cave. We have assigned my treasure to the preparation time for massages and foot care. So the first step was taken.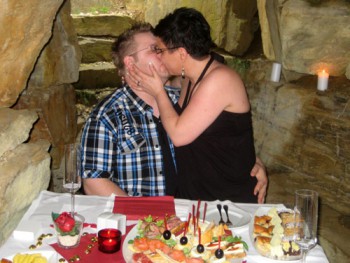 Then I wrote down everything I wanted to say to him for myself, got myself a dictation machine and spoke to it all. After the fifth attempt (everything should be perfect) I had my recording the way I wanted it. Got me engagement rings, a chic dress and everything that goes with it. I couldn't wait until the day finally came.
It was difficult for me to keep it all so secret, so by now almost the whole family was privy to it and everyone gave me their blessings. So I thought to myself: "Nothing can go wrong now".
When we arrived in Loipersdorf I was getting more and more nervous. It should happen on the second day: Tomasz was already on the way to his massage when I prepared everything with the nice receptionist, Mrs. Pucher was her name. Everything in the cave would be nicely decorated with candles. A nicely set table was prepared for me. The champagne was chilled. Everything was perfect.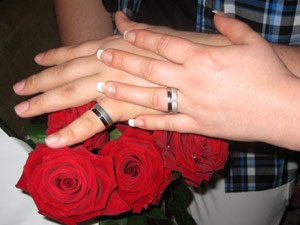 For a brief moment everything threatened to blow open. A mistake was made when making appointments in the wellness area and my friend suddenly stood in front of me, even though he was supposed to be having a massage. I'm standing there in my beautiful black dress, with my nerves already totally exhausted and suddenly he's standing in front of me. I thought to myself "should I laugh or cry now?" And I left quickly. Of course he didn't know anything. Frau Pucher then sent him to our room and told him to please get ready. (He knew we were having a picnic).
So I had a little time to hide in the cave :-). I think I checked at least 5 more times to see if the recording was there, if everything was in the right place and everything worked, until I hid around the corner. Ms. Pucher then led my friend to the table and told him to just sit down and switch to play. Then he just followed it. Around the corner I was totally nervous and was shaking so much.
After the recording was over, I slowly walked out to him and told him again that I love him and whether he wanted to marry me. When I looked into his eyes, I noticed that they were full of tears. He was really happy and of course said yes. I was really happy and we fell around our necks and both cried. 😉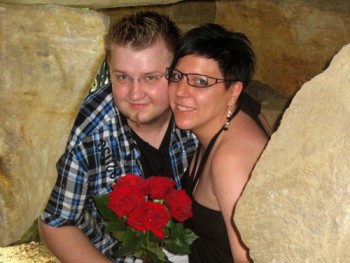 Then a few more beautiful photos were taken of us. Yes, that was my marriage proposal to my darling! 🙂
We have had many ups and downs over the years, but they have only welded us together even more. And not a day goes by that we don't tell each other that we love each other.
Now after 6 years we are still engaged and want to get married even then. We will move into a bigger apartment and then of course think about having a child together.
Sandra R. from Vienna
---
---
Other interesting articles: