Why is the Peruvian cuisine so underestimated
Peru travel tips: An interview with a German emigrant
Jonas originally comes from Bonn in Germany and moved there for good immediately after his first Peru adventure in 2011. He currently works for the travel agency Evaneos * as a local travel expert. In the interview you will find out what Jonas is doing in Peru, what his Peru travel tips are and what exactly Jonas thinks about the country and its people.
Jonas, what are you doing in Peru?
Actually, I just wanted to go to Cusco in Peru to learn Spanish. Then I met my current wife there. Since I liked the country and its people straight away, I just stayed there.
Now I work there as a local travel expert for Evaneos *, i.e. I advise those who are interested in a trip to Peru and create an individual tour with you. Then of course I will help with travel preparation, share my Peru travel tips and be there if advice is needed during the trip :-)
I also have a small English school where my teachers and I teach English to Peruvians of all ages. With the two jobs I'm definitely busy and it's very exciting to have two such different jobs! I never get bored like this. I like to spend my free time with my three children and my wife and I like to go boxing.
What do you especially love about your country?
I especially love the diverse nature. In Peru you can find coast, jungle and of course the Andes. No matter where you are, you don't have to drive far to discover spectacular landscapes. I also like the serenity and friendliness of the people here and the Peruvian food.
At a market in Lima
What distinguishes the Peruvians from us in Germany?
You can't generalize that 100% of course, but in general the Peruvian is a little more relaxed and doesn't worry about tomorrow or wonders what if ... This can often lead to spontaneous and funny things.
But of course it also has its disadvantages. Often there are no fixed opening times or the person with whom you had just arranged a meeting is not there despite the appointment. It's all much more non-binding.
Saleswoman with her two children in Iquitos
I also find it pleasant that it is much easier to start a conversation here. For example, most people are happy when asked for directions. But it is often superficial and making really good friends is rather difficult in Peru. For most Peruvians, the most important thing is family.
Dealing with one another is also much less formal:Usted (She) is used less here, but rather the terms Mommy or Papi … They often say in shops Casera or Casero which means something like "my special saleswoman" or something like that. Because of this relaxed manner, the Peruvians are less stressed and therefore more relaxed and friendly :-)
At the San Camilo market in Arequipa
If you work as a travel expert for Evaneos *, then you probably have a few must-sees that you shouldn't miss, right?
Of course, you should definitely take the time to explore Machu Picchu and the area around Cusco. But as I said, Peru is so diverse that there is a lot to discover here. The flora and fauna of the jungle and the Colca Canyon near Arequipa are definitely worth a visit! The coast with the towns of Paracas, Ica and Nasca is also beautiful.
Red sand beach in Paracas National Park
How much time do you think should be allowed to explore the country?
I recommend Peru travelers to take around three weeks to travel to all regions of Peru.
Evaneos is better known for individual trips off the beaten track. What do you recommend to travelers who plan their trip with you?
So my personal Peru travel tips are the center around Huaraz (paradise for mountaineers and hikers) and the north with Trujillo and Chiclayo. Here you can get to know some of the oldest cultures of mankind and their pyramids, cities and culture. Huaraz is still largely undeveloped for tourism. There is the highest mountain in Peru (Huascarán) and unique landscapes to discover.
Laguna Llanganuco near Huaraz
There are many mountain landscapes in Peru. Do you also often go hiking?
Unfortunately I don't have that much time to do all the long trekking tours. I also have six-year-old twins who can't run that long. So every now and then we go hiking above Cusco for two hours on weekends, which is also very nice.
Last February, however, I took four days off with my 15-year-old daughter and we have that Lares Trekmade. Although I've lived here for seven years, the beauty of nature on the trek surprised me. So, everyone who has some fun hiking and is reasonably fit should have done a longer hike in Peru. It is not that simple and not very luxurious, but it is definitely worth it and you will be surprised how delicious the food tastes during the hike! :-)
Catering on a trek
By the way, no matter where you are, I recommend trying the food. Peruvian cuisine is one of the best in the world and you can find different dishes everywhere, which are made with the respective regionally typical ingredients.
Food sounds good! What should you definitely eat or drink during your trip?
Good food, even very good food, is easy to find in Peru and varies greatly from region to region. On the coast, from Lima upwards, you definitely have to eat fish. Here I recommend Ceviche (Peru's national dish), to try raw fish in a spicy and sour sauce.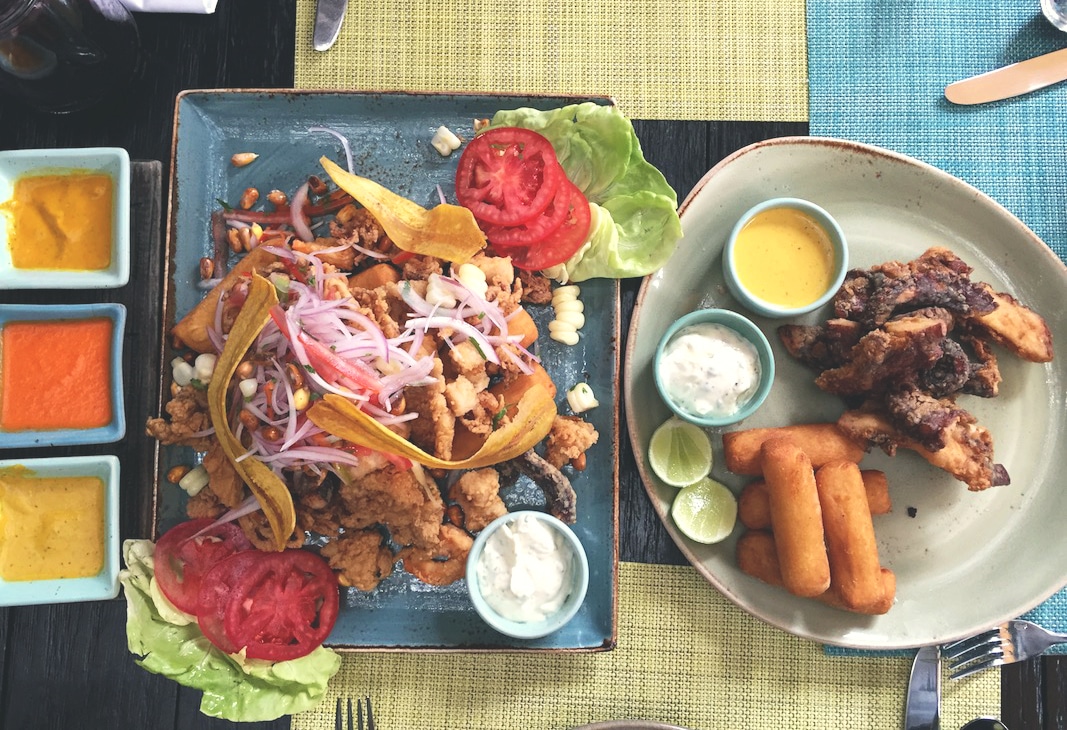 Fish and seafood at the "La Mar" restaurant in Lima
In the Andes there are also many delicious dishes, as it is difficult to choose one. I would say the pan dish Lomo Saltado is something for everyone. If you are in Peru you definitely have to Pisco sour drink. Pisco is grape brandy and Pisco Sour is the national cocktail of Peruvians. Different types of can be found in the Andes Chicha, a fermented corn drink.
The famous grape brandy "Pisco" comes from Peru
And what's your favorite dish?
As I am a vegetarian, I have not yet been able to try many dishes. I tried the national dish, ceviche, of course, and it's very tasty. My absolute favorite dish is Rocoto Relleno, which are filled, very hot peppers. The Rocoto is cut open and the hottest parts are cut out, then we fill the peppers with peas, carrots and if it is not vegetarian, minced meat. Very tasty, but the cook suffers, because the sharpness that you cut out there burns your hands and eyes. For my birthday my mother-in-law always cooks Rocoto Relleno for me :-)
What is the advantage of planning your trip to Peru with you?
So, Evaneos *, as a local travel agency, sends us inquiries, which I then process. My job is to advise every customer as detailed, professionally and individually as possible and to find the best possible trip for them at the right budget. There is so much to see and do in Peru that you can actually travel around here for 6 to 8 weeks without getting bored. However, since most customers only have a certain time limit, you have to find out together what to watch and what not. Many customers often underestimate the distances in Latin America, so good advice is very important.
If the customer then decides to travel with Evaneos, I will help them with questions during travel preparation and I will look after the customers on site. For example, if the customer wants to do something extra, if something does not work out exactly according to his wishes or if there are problems (strikes on the way, natural disasters, plane delays).
Airline "Star Peru"
Most of the time everything goes very well, but last June there was a three-day general strike in the main season and it was virtually impossible to get to Machu Picchu. We had between 7 and 10 groups in Cusco at the time. Thank God we somehow managed to get everyone to Machu Picchu. Not all agencies have succeeded here. However, a colleague and I spent a week organizing everything day and night. This year was definitely the most stressful time for us.
Except for the center of Peru, the country is actually relatively well networked, i.e. you can get almost everywhere by bus or plane. Since Peru is about five times the size of Germany, organizing everything yourself on site is very time-consuming. In addition, the quality of the accommodation and the service in Peru is very different. You can quickly book something that you regret afterwards.
Colonial hotel in Cusco
On our trips, we make sure that all accommodations and activities are of good quality and that our travelers can enjoy Peru safely and, above all, relaxed. Furthermore, we plan the trips in such a way that our customers can see as much as possible in the time available to them.
Can you remember a special or maybe funny situation that you once experienced with travelers?
Sometimes I invite my travelers for a beer or I promise them a free walking tour through Cusco. Actually, that's always very nice. I am in contact with my customers mainly via the Internet, so it's nice to get to know them a little better. Of course, I don't do this with every customer. But if the time is there and something happens, why not. Last year one of my customers asked me if we should have a beer, I said yes. I went to pick the customer up from his hotel and then asked him whether he wanted to go to a tourist bar in the center or to a very simple Peruvian dive bar. He had then decided on the dive bar. This is actually always quite empty and there are only a few people sitting there who may have looked a little too deep into the glass. For some reason it was completely full and the people themselves were also fuller than usual. Since there are never any other tourists there, we definitely attracted attention and in the end we spent a few hours there drinking beer and talking to many different people . It was very funny even if my customer (with whom I still have sporadic contact) didn't really speak Spanish.
What do you enjoy most about your work?
In any case, what I enjoy most is contact with customers, even if I don't go out for a beer or coffee with everyone, I actually almost always stop by at my customers' hotel and make time for them. I think that's important because the customers also want to know who they've been emailing with all along.
How often do you visit your family in Germany?
Unfortunately not that often, because if you work in Peru you don't get rich (at least in monetary terms). Most Peruvians have never been abroad and everything that has to be paid in euros or dollars is often difficult to finance. I have three children and a wife, so it is difficult for the five of us to fly to Germany. The last time we were there was three years ago. In 2018 we will go back and leave my oldest daughter there to study. Maybe I'll be flying to the ITB in Berlin in March. Let's see!
Are there any special accommodations that you can incorporate into your tours? (in tree houses, special hotels, sleeping in the desert under the open sky, etc.)
So there are no tree houses in Peru;) But there are very nice jungle lodges. The most beautiful is directly on the Sandoval Lake, one of the most beautiful spots on earth that you can imagine. If you love peace and solitude, I can recommend a very special hotel. This is lonely on the hotel's own island in the middle of the shimmering blue Lake Titicaca.
View over Lake Titicaca
Another very popular accommodation is in the Sacred Valley or, to be more precise, hovers about 300 meters above it. And yes, I gladly and often build all of these accommodations into my trips, just as one wishes :-)
Can you tell of your own exciting travel experiences in Peru?
You always experience something exciting or extraordinary when you go on vacation. So the list is long.
Last week, for example, I was with my family in Puerto Maldonado on the edge of the jungle. The lodge is beautifully situated: on the outskirts of town in a two-hectare forest. We were able to observe many animals there, such as monkeys, different birds, two species of mammals whose names I don't know, butterflies, etc. ... When we went swimming one night, a 15 cm tall tarantula was sitting right next to us ... That was definitely cool! Even if tarantulas are not really dangerous, we had a somewhat queasy feeling. It was a very exciting night swim;) [/ vc_column_text] [vc_empty_space height = "20px"] [vc_separator type = "normal" border_style = "" align = "align_center"] [vc_empty_space height = "20px"] [/ vc_column_inner] [ / vc_row_inner] [vc_row_inner row_type = "row" type = "full_width" use_row_as_full_screen_section_slide = "no" text_align = "left" css_animation = ""] [vc_column_inner width = "1/2 ″] [vc_column_text]
Peru travel tips first hand
For everyone who would like to plan their trip with a local travel expert, I recommend the travel agency Evaneos *. The concept of direct travel booking is innovative and is recommended by my readers again and again.
Nora
Travel writer & photographer
I am writing this travel blog for you. On these pages you will find nationwide travel reports, suggestions for travel routes, planning aids and a wealth of tips for everything a traveler's heart desires: this includeslocal travel agencies, accommodations, packing lists, information about money, Restaurant tips, etc.